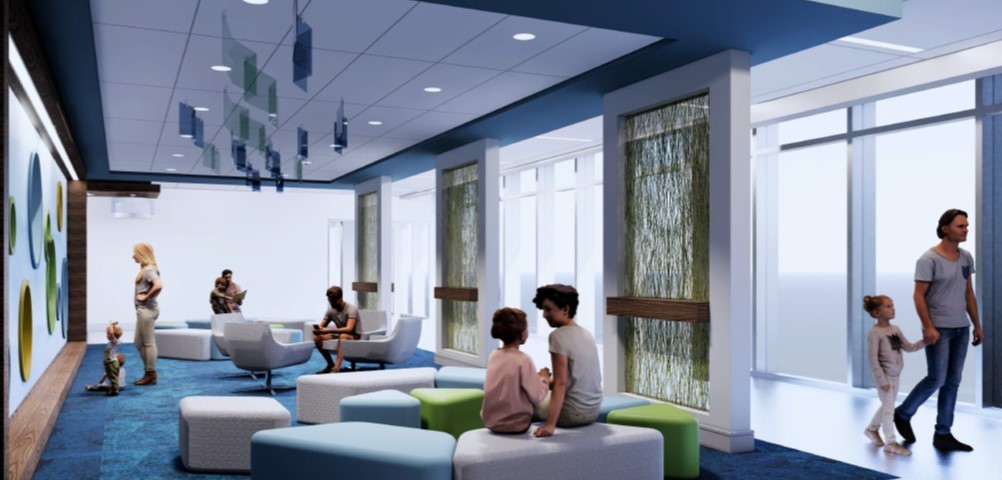 Ochsner Baton Rouge announced the expansion of Ochsner Medical Complex – The Grove to include a pediatric super-clinic. 
Ochsner will combine pediatric specialty services, with additional pediatric subspecialties on the horizon, to place them all under one roof. This strategy will help parents avoid the traffic of Baton Rouge for appointments at various locations. In addition, the new super-clinic will provide children with a friendly and welcoming environment that, as it becomes a familiar space, will help lower anxiety. 
This super-clinic will encompass nearly the entire fifth floor at The Grove. 
"Kids are resilient," stated Eric McMillen, CEO, Ochsner Baton Rouge.  "The majority of conditions children face can be treated in an outpatient clinic setting or at a same-day surgery center – like what we already have at The Grove."
The Grove's top floor will transform into a kid-focused area and the building will offer general pediatrics, pediatric gastroenterology, pediatric neurology, pediatric plastic and reconstructive surgery, pediatric orthopedics, pediatric urology, pediatric cancer care, pediatric hepatology, pediatric ENT (ear, nose & throat), pediatric allergy, pediatric dermatology, pediatric pulmonology, and child and adolescent psychiatry and psychology, along with EEG, infusion, pulmonary testing and lactation support services for children.
There will be 38 exam/treatment rooms on the fifth floor and a dedicated 3,632 square-foot child development center. This area within the super-clinic will feature physical, occupational, speech, and feeding therapy. It is designed to provide personalized, family-centered patient care like Ochsner's Michael R. Boh Center for Child Development.
The project represents a $6.8 million investment, which includes over $700,000 in pediatric-specific medical equipment. The total square footage of the expansion is approximately 18,500 square feet, with a dedicated pediatric waiting room of nearly 3,000 square feet. 
The contractor for the project is The Lemoine Company and the architect is Grace Hebert Curtis Architects.  Expected completion of the project is slated for Fall 2021.